Septic Tank Maintenance Williamston SC
With Over 80+ Five Star Reviews _ We're The Trusted Pumper In Williamston!
If you're living in Williamston, South Carolina, one thing you might not think about much is your septic tank and how your septic system operates. Hidden away, it quietly handles all of the wastewater from your house. But even though it's out of sight, it's important not to let it be out of mind.
Your septic tank plays a crucial role. When it works properly, it manages our waste and keeps our homes and environment safe. If it's not cared for, it can cause problems like bad smells and even serious issues like contaminating groundwater.
That's where Prime Septic comes in. We're a trusted provider of septic tank pumping services in Williamston, SC. Our skilled team can regularly check your septic system, pump it as needed, and handle any issues that pop up. By keeping your septic system in top shape, we'll help prevent problems from happening in the first place. So, let Prime Septic handle your septic system, so you can relax and enjoy your home without worrying.
What Are The Indications That Your Williamston Septic Tank Needs Pumping?
It's really important to pay attention to the clues your septic system delivers when it's in need of a pump-out or a little bit of care. The following signs could be your system's plea for immediate attention. Ignoring these signs might result in expensive repairs down the line.
Clogged Or Backed Up Drains: This is probably the most obvious clue that something is wrong!   If you notice your sinks, bathtubs, or toilets draining slower than they typically do, or they are outright backed up, it could be an indication that your septic tank is full or you have a clog in the system. This is particularly common during or after periods of heavy rainfall, as the drain field can become saturated.
Unpleasant Odors: One of the most noticeable red flags is the emergence of foul smells from your drains or around your yard, especially near the drain field. This could suggest that your drain field is being overwhelmed.
Pooling Water: If you spot standing water near your septic tank or drain field, it's a clear sign that your drain field might be overwhelmed, signaling the need for an urgent pump-out and possibly even some repairs.  Typically this is a later stage problem and there is likely some clogs in your system.
Gurgling Noises: Gurgling sounds emanating from your plumbing system when you flush or drain sinks could hint that your tank is full and dispersing into the drain field.
Sewage Overflow: The most severe symptom is a sewage backup in your toilets or sinks. This is an emergency situation that requires immediate pumping and an inspection of the system to ensure nothing else is wrong.
Recent Home Purchase: If you've recently moved into a new home in Williamston, hopefully, a septic inspection was part of your purchase process. If you're unsure when the septic tank was last pumped, it would be wise to schedule a pump-out to start with a clean system.
The South Carolina Department of Health and Environmental Control (SCDHEC) recommends regular septic tank pumping every 3 to 5 years as a preventive measure to avoid septic system issues. This regular maintenance can help you dodge hefty repair costs in the future.
Facing Septic System Problems in Williamston, SC?
Often, we get calls for septic tank pumping in response to an issue with the system. Are you in Williamston and noticing some red flags with your septic system? Perhaps there are patches of waste water appearing on your property, or you're encountering sewage backups in your shower or bathtub drains. If you're beginning to detect unpleasant odors around the vicinity of your septic system, or it's backed up with a clog, these are unmistakable signs that your system needs attention.
Consistent upkeep of your septic system is important for effective wastewater treatment and dispersion to your drain field. If you neglect this regular maintenance or misuse your system, it could lead to complicated, and expensive, issues that will need professional repair.
Our Range of Septic Repair Services in Williamston:
Blocked or Overloaded Septic Systems: Often, we can swiftly unblock and clear your septic system, bringing it back to optimal performance. Many times, blockages are due to grease accumulation or invasive tree roots.
Septic Dose Pumps: Our team is skilled at repairing or replacing your septic dose pump, a vital component in your septic system's functionality.
Septic Filter Solutions: Whether it's installation, cleaning, or replacement, we manage your septic filter's health to effectively filter solids from your effluent, preventing blockages in your drain field.
Septic Alarms and Float Switches: We deal with the repair and replacement of septic alarms and float switches, integral for timely warnings of potential septic system problems.
Septic Tank Risers: We can install or replace septic tank risers, providing easy accessibility for your septic tank's routine servicing and inspection. Without a riser, the septic tank lids must be excavated.  Installing risers will make future maintenance a lot easier, and can help reduce future costs as well.
Septic Drain Fields: We handle all aspects of your drain field from repair to component replacement, ensuring this key part of your septic system is performing optimally to avert groundwater pollution.
It's important to remember, a minor issue with your septic system today could escalate into a significant problem tomorrow if not addressed promptly. If you're a Williamston resident facing any of these issues, don't hesitate to contact us for swift, professional, and effective septic system repairs.
Preparing For Your Septic Tank Pumping In Williamston: A Handy Guide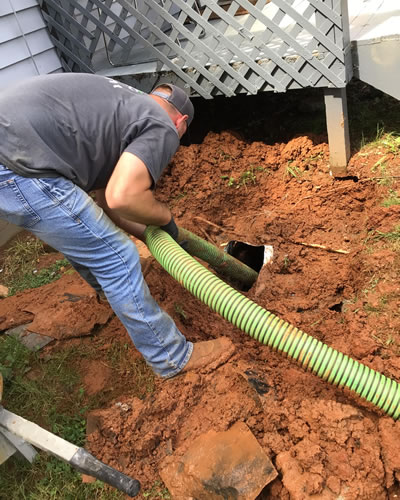 In preparation for our team's visit to pump your septic tank, there are a few measures you can take to ensure a quick, effective service and a smooth overall experience.
Step 1: Knowing where your septic tank and drain field are located is crucial. This information can help save time and prevent extra charges. Although we do provide tank locating services, these come with an additional cost. To keep your expenses down, be prepared to guide our driver to your system or, if you can't be home, leave a clear marker or note indicating the tank's location.
Step 2: If your septic tank does not have risers installed, we kindly ask, if you're physically capable, to expose the septic lids before we arrive. We offer digging services if required, but this comes at an extra cost. Uncovering the lids ahead of our visit can help you cut down on expenses.
Step 3: Please ensure your driveway is clear of any potential hindrances, such as cars, RVs, boats, or trailers. The closer we can park our truck to your tank, the more efficient the pumping process will be. This also prevents us from having to drive over your lawn or any delicate, grassy areas. Septic trucks are weighty, and we certainly don't want to get stuck or cause damage to your property.
Step 4: Don't hesitate to communicate with us! If there are softer areas near your septic tank, specific challenges, or obstacles like bridges, landscaped areas, or underground piping that we should know about, please inform us in advance. Given the weight of our septic trucks, especially when loaded, we aim to avoid any unnecessary damage to your property.
Remember, if you have any questions regarding septic tank pumping, we're always ready to assist. Don't hesitate to reach out to us at (864) 401-1111. We're eager to address any concerns you might have.
Why Choose Prime Septic for Septic Tank Pumping in Williamston, SC?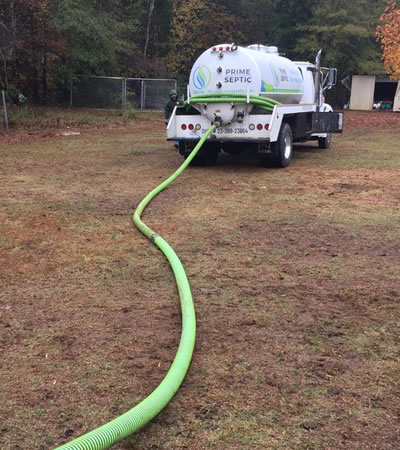 There are numerous reasons why Prime Septic should be your first choice for septic tank pumping in Williamston, SC. Here are just a few.
Locally-Owned Family Business: As a family-owned business operating in the local area, we have deep connections to Williamston and its surrounding communities. We're more than just a business; we are your neighbors, offering services tailored to meet the unique needs of our local friends and family.
Fully Licensed and Insured: Rest assured that we possess all the required licenses to conduct septic services in South Carolina. This ensures that you're partnering with professionals who strictly adhere to local regulations and industry standards. Additionally, our comprehensive insurance coverage safeguards you against any potential liabilities during our service.
Top-Quality Equipment: Our equipment is meticulously maintained and routinely inspected to guarantee efficient, safe, and clean operations. We pledge that our trucks will not leak sewage or oil onto your driveway, preserving your property's cleanliness and integrity.
Swift and Professional Service: We take great pride in our fast, professional septic tank services. If you get in touch early enough in the day, we can provide same-day services. In cases of emergencies, we offer immediate services for an additional fee.
Amiable and Respectful Staff: Our team comprises friendly, courteous drivers who treat your property with the utmost respect. They prioritize providing you the best customer experience, always arriving with a smile and ensuring your property remains as pristine as they found it.
Affordable Pricing: We recognize that cost is a significant consideration when selecting a septic service. Hence, we provide competitively priced services, offering exceptional value without sacrificing quality.
Your Business Matters to Us: We genuinely value and appreciate your business. We understand you have choices for septic services, and we are always grateful when you choose us.
For trustworthy, professional, and friendly septic tank pumping in Williamston, SC, Prime Septic stands ready to exceed your expectations.
What Do Our Septic Tank Pumping Clients Say About Us...?
Schedule Septic Tank Pumping Service In Williamston SC
The Most Trusted Septic Tank Pumping Company In Williamston South Carolina
Williamston, South Carolina, is a quaint town steeped in history and charm, situated in Anderson County. Known for its picturesque landscapes and a warm, welcoming community, the town paints an idyllic picture of southern small-town life. As of 2020, the population hovered around 4,000, creating a tight-knit community where residents enjoy a slower, more relaxed pace of life.
The town is perhaps best known for its Mineral Spring Park, the site of a historic mineral spring believed to possess healing properties. Today, the park serves as the heart of the community, hosting various events throughout the year, including the Spring Water Festival, a popular annual event celebrating the town's history and culture. Williamston's close proximity to larger cities like Greenville and Anderson also provides residents easy access to bigger city amenities while maintaining its small-town charm. Known for its rich heritage, friendly community, and natural beauty, Williamston offers a unique blend of historical significance and modern convenience.
If you'd like to schedule your septic pumping or other septic service please call (864) 401-1111 or fill out our online contact form and we'll get right back to you so we can schedule a day and time.
Septic Pumping Questions and Answers
There are more than just one type of septic system located within our South Carolina service area.  It's helpful if we know what type of system you have before we are called out to provide pumping or service.
Conventional Septic Systems.
Chamber Systems.
Drip Distribution Systems.
Aerobic Treatment Units.
Mound Systems.
If you don't know what type of system you have we'll be able to tell you when we arrive on site.
Our trucks are equipped with 200' feet of vacuum hose.  If we can get our truck to within 200' of your septic tanks we can pump them out.  If you think the distance will be further than 200', please let us know and our driver can come with hose extensions.  We try and stay off your grass under all circumstances as it's easy to get a heavy septic truck stuck.
If you have a specific route you'd prefer we take on your property please let our dispatch or our driver know.
Absolutely NOT!  On an almost weekly basis we are called to pump out septic tanks that are clogged and overflowing into the customers home.  Many times the issue is because baby wipes have been flushed down the toilet.  One or two wipes isn't going to cause a problem but when it's dozens, or hundreds of them over months or years it will clog your system up and cause backups and potential damage to the system.  It is NOT a good idea.
The South Carolina Department of Health and Environmental Control (DHEC) recommends a septic tank be pumped every 3-5 years. However, this can vary based on the number of people in your household, the amount of water usage, and the volume of solids in your wastewater.
Typically, homeowners insurance does not cover septic tank pumping or any damage caused by lack of maintenance. It is advisable to check your policy details or contact your insurance provider for accurate information.
The DHEC recommends water conservation, regular inspections, and being careful about what you flush or drain into your system. Avoiding non-biodegradable materials and harsh chemicals can prolong the lifespan of your septic system.
Septic tanks can be pumped any time of the year. However, it's typically easier to schedule this service during warmer months when the ground isn't frozen, and access to your tank is easier.
Some common signs that your septic tank needs pumping include:
Slow draining sinks, bathtubs, and toilets.
Unpleasant odors near the septic tank or drain field.
Sewage backup in the house or yard.
Pooling water around the septic tank or drain field.
Lush, green grass over the drain field, even during dry periods.
The property has changed hands in a real estate transaction.
You are unsure when the last pump-out was.
Septic tank pumping is arguably the most important maintenance task you can do to keep your septic system functioning correctly and trouble-free.
Failing to pump your septic tank regularly can lead to several issues, including:
Solid waste and sludge accumulating in the tank, reducing its efficiency.
Blockages in the plumbing system, leading to backups and slow drainage.
Overflow of wastewater into the drain field, which can contaminate groundwater and cause soil pollution.
Costly repairs or replacement of the septic system.
Yes, South Carolina has regulations and guidelines for septic tank pumping, installation, and maintenance. The South Carolina Department of Health and Environmental Control (SCDHEC) is responsible for overseeing septic system regulations. For more information, visit their website: https://scdhec.gov/environment/your-home/septic-tanks
Septic tank additives claim to break down solids and reduce the need for pumping. However, there is limited scientific evidence supporting the effectiveness of these additives. In some cases, additives can cause harm to the septic system or disrupt the natural balance of bacteria necessary for breaking down waste. The Environmental Protection Agency (EPA) and the South Carolina Department of Health and Environmental Control (SCDHEC) do not endorse the use of septic tank additives as a replacement for regular pumping and maintenance.
To prolong the time between septic tank pumping and still maintain the efficiency of your septic system, consider the following tips:
Conserve water by using low-flow toilets and showerheads, fixing leaks promptly, and spreading out laundry loads throughout the week.
Avoid disposing of non-biodegradable items, grease, oil, fat, tampons, cigarette butts, and chemicals in drains or toilets, as these can clog the system and disrupt the natural breakdown of waste.
Regularly inspect and maintain your septic system components, such as the tank, drain field, and plumbing.
Keep records of septic tank pumping and maintenance to ensure proper scheduling of service appointments.
We don't recommend stretching out pumping intervals as this is a great way to invite trouble.  However, maintaining your septic system to a high-standard and looking after it can definitely help prevent any issues.
Yes, heavy rain or flooding can affect your septic system. Excessive water can saturate the soil around the drain field, limiting its ability to absorb wastewater. This can cause sewage backups in your home, slow drainage, or pooling water near the septic tank or drain field. If you experience these issues after heavy rain or flooding, it's essential to contact a professional septic service like Prime Septic for inspection and potential pumping.
While it's not mandatory, it can be helpful if you're present to provide access and answer any questions the technician may have. If you can't be there, ensure you mark the location of your tank and provide any necessary access and if possible provide a contact phone number our driver can call if there is any questions.
Septic tank pumping is regulated by the DHEC in South Carolina, which requires that only licensed professionals handle this work. The pumped waste must also be disposed of at a licensed treatment facility.