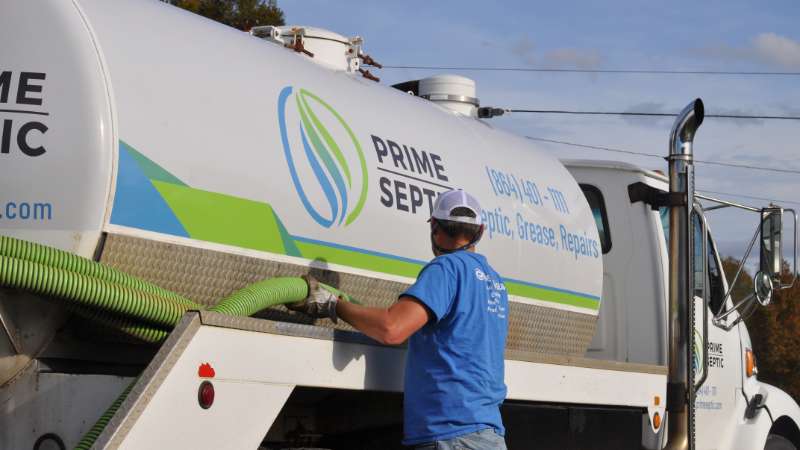 Comprehensive Catch Basin Pumping Services by Prime Septic
Prime Septic is a leading septic pumping company that specializes in providing comprehensive catch basin pumping services for car washes, gas stations, parking lots, and more. With an unwavering commitment to exceptional customer service and efficient solutions, Prime Septic proudly serves clients in Belton, Greenville, Honea Path, Simpsonville, Easley, and Piedmont.
Catch basins are a type of storm drain that is used to catch sediment and debris before it enters the next stage of a drainage system.  Catch basins are commonly used in car washes, service stations, and large parking lots to catch and divert the water run-off while at the same time trapping all of the sediment, sand, leaves, trash, and other debris that could otherwise clog up a drainage system.
Catch basins are crucial components of stormwater management systems designed to collect and redirect excess water and debris from streets, parking lots, and other paved surfaces. By preventing flooding, catch basins help maintain the structural integrity of roads, sidewalks, and buildings. Additionally, these systems protect the environment by preventing the discharge of pollutants into waterways.
However, catch basins require regular maintenance to ensure proper functioning. Over time, debris such as leaves, trash, and sediment can accumulate in the basin, potentially leading to blockages and reduced efficiency. To avoid costly repairs or damage to property and the environment, timely catch basin pumping is essential.
Prime Septic's Catch Basin Pumping Services
Prime Septic offers a comprehensive range of catch basin pumping services designed to meet the unique needs of various commercial clients, including car washes, gas stations, parking lots, government institutions and more. Our highly trained technicians use state-of-the-art equipment to efficiently and safely remove accumulated debris and excess water from catch basins, ensuring optimal performance.
Our catch basin pumping services include:
Regular maintenance and cleaning
Inspection of catch basin components
Debris and sediment removal
Emergency catch basin pumping
By choosing Prime Septic, you can trust our team to deliver exceptional service and ensure the longevity of your catch basin system.
Our Service Areas: Belton, Greenville, Honea Path, Simpsonville, Easley, and Piedmont
At Prime Septic, we are proud to serve clients across a wide range of locations in upstate South Carolina, including Belton, Greenville, Honea Path, Simpsonville, Easley, and Piedmont. Our extensive service area reflects our commitment to providing reliable and efficient catch basin pumping services to clients in need, regardless of their location.
Why Choose Prime Septic for Your Catch Basin Pumping Needs?
There are several reasons why you should choose Prime Septic for your catch basin pumping needs:
Expertise: Our team of technicians has extensive experience and knowledge in catch basin pumping and maintenance, ensuring the highest quality service.
Comprehensive Services: We offer a wide range of catch basin services, including regular maintenance, inspections, and emergency pumping.
State-of-the-Art Equipment: We use the latest equipment and technology to deliver efficient and reliable catch basin pumping services.
Customer Satisfaction: Our top priority is ensuring the satisfaction of our clients, and we are dedicated to providing exceptional service from start to finish.
Environmentally Friendly Practices: We prioritize eco-friendly methods in our catch basin pumping services to protect the environment and ensure compliance with local regulations.
Prime Septic Pumps Out Catch Basins In Belton and Anderson County, South Carolina
Prime Septic is a vacuum truck services company based out of Belton, SC and serving Anderson County and the surrounding area.
We specialize in pumping out residential and commercial catch basins of all sizes.  We offer prompt and efficient service that is competitively priced.
If you'd like to schedule a pump out and cleaning of your catch basin please give us a call  (864) 401-1111 or fill out our contact form and we'll get right back to you.