Septic Tank Pumping In Greenville SC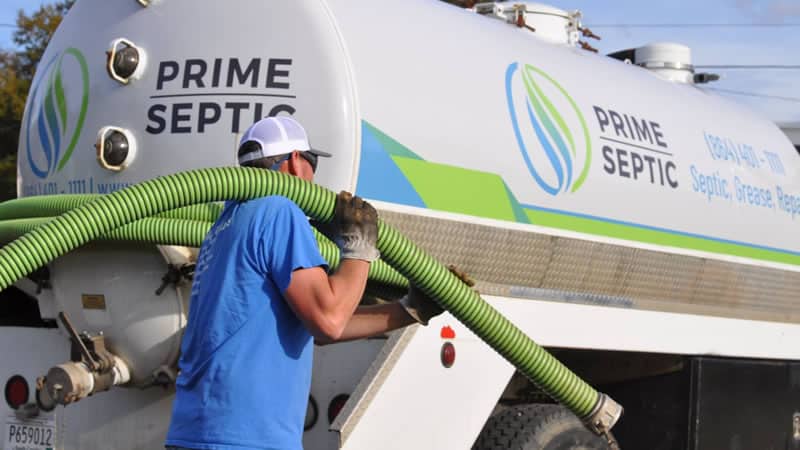 Septic Tank Pumping In Greenville South Carolina
Are you searching for septic tank pumping near me? Do you have a septic tank that needs to be cleaned or pumped out in the Greenville, SC area? If so, you're in luck! Prime Septic provides affordable and reliable septic tank pump outs through out Greenville, and the surrounding area.
What Problems Are You Experiencing With Your Septic System?
Do you have sewage backing up into your home?
Do you notice your drains are draining very slowly?
Do you notice sewage pooling up in your yard near your septic field?
Are you noticing sewage smells within your home or around your property?
These are all signs that your septic system is having an issue and the majority of septic issues are from a lack of proper maintenance. The number one maintenance task that you can do is have your tank pumped out!
If you're experiencing any of the above issues with your septic system call Prime Septic immediately at (864) 401-1111 and we can often schedule your pump out on the same day.
What Causes A Septic System To Become Clogged?
The main cause of septic systems becoming clogged and failing is from a lack of maintenance or system abuse. This could include grease or fat clogging up a line, tree roots infiltrating a pipe, flushable wipes causing a clog, and more.
A septic tank works by collecting wastewater from your home and allowing it to decompose over time. The liquid is dispersed to your drain field where it can be treated by your surrounding soil. However, the solids will remain in the tank and form a layer of sludge on the bottom. As these solids accumulate in the tank, they need to be removed every few years to prevent the system from becoming overloaded.
If you own a home with a septic septic system, it is important to have all of the solids pumped out of your tank regularly for proper system maintenance. When the solids build up in your tank they can plug up your septic system including your drain field which is the most expensive part of your system to repair. Pumping your tank at the recommended interval is your best insurance against expensive problems.
How Often Should Your Greenville Septic Tank Be Pumped?
It is generally recommended that you have your septic tank pumped every 3-5 years, depending on the size of the tank and the number of people in your household. If you have a larger tank or live in a home with more people, you may need to have it pumped more frequently. You should also have your septic tank pumped if you notice any sign of a problem, such as sewage backup or slow drains.
If you are due for a septic tank pumping, or if you think you may have a problem with your system, contact Prime Septic (864) 401-1111 today. We will come to your home and inspect your system to determine the best course of action. We can then pump your septic tank out and help you get your system back up and running smoothly.
What Are Some Septic System Do's and Don'ts?
To keep your septic system in good working order, there are a few things you should do:
Know the location of your tank and drain field.
Pump your septic tank every 3-5 years.
Clean your effluent filter once every 6 - 12 months.
Have your system inspected annually.
Use water wisely.
Dispose of waste properly. (not everything goes down your drain!)
And a few things you shouldn't do:
Pour grease, oil, or fat down the drain.
Flush hazardous materials down the toilet.
Flush baby wipes or "flushable wipes".
Dispose of large amounts of food waste in the garbage disposal.
How To Prepare For Your Septic Tank Pump Out
There are a few things you can do to prepare your septic tank to be pumped.
#1.  Know the location of your tank and drain field.  It's really common for a septic tank to be "lost" over the years.  Especially on older properties that have changed hands several times.  We can certainly locate the tank for you but this takes our driver additional time and we charge for our time.  By knowing the location of your tank and your septic system drain field you'll save yourself some money.
#2.  Make sure the lids to your septic tank are exposed and easy to access.  It's common for older systems to have the lids buried.  If you are able to dig up the lids you can save yourself from additional charges.  If you are unable to dig up the lid then we are more than happy to do it for you.
#3.  Make sure our driver has a clear path down your driveway so we can get as close to your tank as possible.  This might include opening gates, moving RV's, boats, or other vehicles, and ensuring we can easily access the tank.  Our trucks are equipped with up to 200' of hose so we can reach out when needed but the closer the better!
Are You Unsure About Your Septic System And How It's Working?
We do offer septic system inspections.  We can have a look at your entire system to troubleshoot any problems you might be having and give you a general idea of your septic systems health.
An inspection includes:
Locating the septic tank and drain field.
Inspecting your tank and tank baffles.
Inspecting and cleaning your effluent filter.
Inspecting your distribution box.
Inspecting your dose pump or pump system.
Inspecting your drain field using a camera.
If you're unsure what is wrong with your septic system or you're just trying to get a general idea on the health of your septic system then one of our septic system inspections will give you peace-of-mind and an action plan moving forward for maintenance.
If you have any questions about septic tank pumping or septic system maintenance, contact Prime Septic (864) 401-1111 today. We will be happy to answer your questions and can schedule your septic system pump out to help you keep your septic system in good working order.