We Pump Septic Tanks In Pelzer SC
With Over 80+ Five Star Reviews _ We're The Trusted Pumper In Pelzer!
For people living in the lovely town of Pelzer, South Carolina, it's very important to take good care of their properties and the systems that make it run smoothly. One thing we sometimes forget about is the septic tank. It's a big tank that holds all the waste water from our homes but it's out of sight and out of mind.  It's usually not something we think about until it becomes a problem.
What Are The Signs Your Pelzer Septic Tank Needs To Be Pumped?
Pelzer residents, it's essential to understand your septic system's signals that indicate it's time for a pump-out. If you notice any of the following signs, it's your septic system's way of saying, "Help, I need some attention!"  Ignoring these signs can often lead to costly repairs.
Slow Drains: If you observe that your sinks, bathtubs, or toilets are draining slower than usual, your septic tank might be nearing capacity.  This is very common during or after heavy rain fall as the septic drain field becomes overwhelmed.
Bad Smells: One of the most apparent signs is unpleasant odors emanating from your drains or even around your yard, especially in the area of the drain field.  This could mean your tank is full and needs immediate attention.
Standing Water: If you're noticing pools of water around the area of your septic tank or drain field, it's a sign the drain field might be overwhelmed, and it's high time for a pump-out.
Gurgling Sounds: If there are gurgling sounds when you flush or use your sinks, it can be an indication that your tank is full.
Sewage Backup: The most severe sign is sewage backup in your toilets or sinks. This is an emergency situation that requires immediate pumping.
You've Just Moved In:  If you've just purchased a new-to-you home in the Pelzer area hopefully you had a septic inspection prior to purchase.  If you don't know when the last time your septic tank was pumped, it's probably a good idea to have it pumped so you're starting with a clean slate.
Regular septic tank pumping every 3 to 5 years can prevent septic system issues and prevent you from having to go through expensive repairs in the future.
Septic Tank Pumping Near Pelzer, SC
As trusted professionals in Pelzer, SC, we offer thorough septic and holding tank pumping services for both residential and commercial properties. Regularly removing the solids and liquid from your septic tank is a crucial part of the maintenance routine that ensures your system's optimal performance. The recommended time frame for your septic tank to be pumped out typically ranges from every 3 to 5 years. This, however, can vary based on the number of bathrooms you have in your home, the size of your household, and the overall usage of your septic system.
Once we've completed the pumping and inspection process, we'll provide you with a recommended pumping schedule. This schedule is determined based on the conditions inside of your tank and the thickness of the scum layer (found at the top) and sludge layer (settled at the bottom) within your tank.
We take pride in our comprehensive approach to septic tank cleaning, ensuring we pump out all solids and liquids from your tank. If needed, we employ backflushing techniques to effectively dislodge any remaining sludge and solids at the bottom. This ensures a thorough and effective pump-out.
By offering this detailed, customer-focused service, we help you maintain a healthy septic system in Pelzer, SC, promoting longevity and preventing costly future repairs.
Struggling with Septic System Issues in Pelzer, SC?
Many times we are called for septic tank pumping because there is some type of problem with the system.  Is your Pelzer septic system giving you cause for concern? Perhaps you've noticed pools of waste water gathering on your property or you're dealing with sewage backing up through your bathtub or shower drains. If unpleasant smells are starting to permeate from the area around your septic system, these are clear indicators that something isn't right.
Regular maintenance of your septic system is paramount for the efficient treatment and dispersal of your wastewater. Overlooking this maintenance, or using your septic system improperly, could result in complex and costly issues that need to be fixed.
Our Expertise in Septic Repairs:
Clogged or Backed Up Septic Systems: We can usually quickly unclog and clear your septic system, restoring its optimal functionality and efficiency.  Often the clog is related to grease build up or tree root infiltrations.
Septic Dose Pumps: We have the skills to repair or replace your septic dose pump, which plays a crucial role in your septic system's operations.
Septic Filter Services: From installation to cleaning and replacement, we ensure your septic filter is in prime condition to effectively screen out solids from your effluent and keep them from clogging up your drain field.
Septic Alarm and Float Switches: We handle the repair and replacement of septic alarm and float switches, crucial elements for timely alerts of potential septic system issues.
Septic Tank Risers: We install or replace septic tank risers, which provide easy access for your septic tank's regular maintenance and inspection.  Without a riser, your septic tank lids must be dug up.
Septic Drain Fields: From repairing to replacing components of your drain field, we ensure this essential part of your septic system is functioning as it should to prevent groundwater contamination.
Remember, a small problem with your septic system today could become a big problem tomorrow if left unchecked. If you're a Pelzer resident experiencing any of the above issues, reach out to us for prompt, professional, and effective septic system repairs.
Preparing for Septic Tank Pumping In Pelzer: A Handy Guide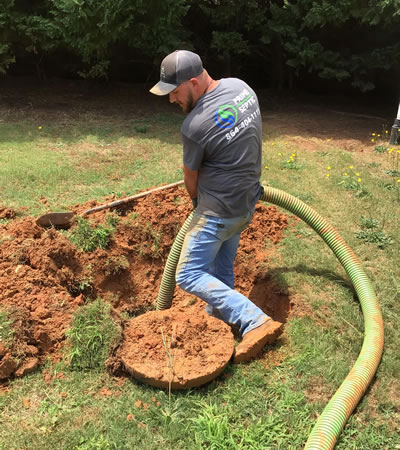 As you anticipate our visit for your septic tank pumping, there are several steps you can take to ensure an efficient service and a smooth experience.
Step 1: It's important that you're aware of your septic tank and drain field's location. This knowledge can save valuable time and help you avoid additional charges. While we do offer tank location services, this will be added to your invoice. To reduce costs, be ready to direct our driver to your system's location, or if you won't be home, consider leaving a note or some other indicator marking the tank's position.
Step 2: If your septic tank lacks risers, and if you're physically able, we would appreciate if you could uncover the septic lids prior to our arrival. Digging is a service we provide but it does come with an additional fee. Therefore, having the lids exposed before we get there can save you some money.
Step 3: Kindly clear your driveway of any obstructions like vehicles, RVs, boats, or trailers. The closer we can position our truck to your septic tank, the more efficient the service. This precaution also helps us to avoid driving on your lawn or any soft, grassy patches.  Septic trucks are heavy!  We don't want to get stuck on your property.
Step 4: Communication is key! Please inform us in advance if your property has any soft spots near the septic tank, or if there are specific obstacles we should be aware of, such as bridges, landscaping features, or underground pipes. Our septic trucks, particularly when loaded, are very heavy, and we aim to prevent any potential damage to your property.
If you have any queries about the septic tank pumping process, we're here to help. Feel free to give us a call at (864) 401-1111, and we'll gladly address any of your concerns.
Why Choose Prime Septic for Septic Tank Pumping in Pelzer, SC? The Prime Septic Advantage!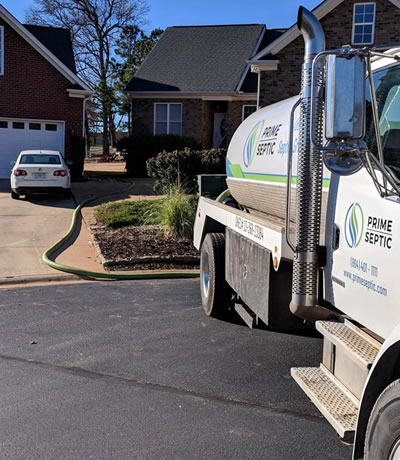 Why should you turn to Prime Septic when you need septic tank pumping in Pelzer, SC? Here are some compelling reasons that make us your ideal choice!
Family-Owned and Local: As a family-owned and operated business, we are intimately familiar with Pelzer and its surrounding areas. We're not just a company; we're your neighbors, providing services tailored to the needs of our local community.
Licensed and Insured: We hold all the necessary licenses to perform septic services in South Carolina. This gives you peace of mind knowing you are working with professionals who follow all local regulations and standards. Our comprehensive insurance coverage adds another layer of security, protecting you from liability during the servicing process.
Well-Maintained Equipment: Our equipment is regularly inspected and well-maintained, ensuring efficient, clean, and safe operations. We guarantee our trucks will not leak sewage or oil on your driveway, preserving the integrity and cleanliness of your property.
Fast and Professional Services: We pride ourselves on delivering fast, professional septic tank services. We offer same-day services if you call early enough in the day, and for more urgent situations, we provide emergency services at an additional charge.
Friendly and Courteous Drivers: Our team consists of friendly, courteous drivers who respect your property and strive to provide the best possible customer experience. They'll always arrive with a smile and leave your property just as they found it.
Competitive Pricing: We understand that cost is a crucial factor when choosing a septic service. That's why we offer competitive pricing for all our services, providing great value without compromising on quality.
We Value Your Business: Above all, we genuinely appreciate your business. We understand that you have choices when it comes to septic services, and we are always grateful for the opportunity to serve you.
So for reliable, professional, and friendly septic tank pumping in Pelzer, SC, look no further than Prime Septic. We're here to meet and exceed your expectations.
What Do Our Clients Say About Us...?
Request Septic Tank Pumping Service In Pelzer SC
Your Trusted Septic Pumping Company In Pelzer South Carolina
Nestled in the charming region of Anderson County, Pelzer, South Carolina, is a captivating treasure of the Old South. The town's enchanting blend of history and natural beauty provides a distinctive charm, attracting visitors who appreciate the serene rural landscapes and echoes of a past era. Pelzer was an industrial powerhouse during the heyday of cotton mills, a legacy that remains imprinted on its character. The Historic Pelzer Mill, a testament to the town's industrial past, today stands as a prominent local landmark. The town's nostalgic ambiance is interwoven with the enduring sense of community, making it a tranquil retreat away from the hustle and bustle of city life.
The natural beauty surrounding Pelzer is simply breathtaking. It is located near the Saluda River, which provides a host of recreational activities, including boating, fishing, and kayaking. For nature enthusiasts, the Timms Mill Pond is a must-visit location, offering an idyllic setting for picnics and hikes. Moreover, the local parks and walking trails invite you to enjoy South Carolina's captivating wildlife and flora, contributing to Pelzer's status as a nature-lover's paradise. With its picturesque charm, small-town warmth, and compelling history, Pelzer presents a slice of South Carolina that remains timeless, serving as a reminder of the state's rich past while looking forward to its future.
If you'd like to schedule your septic pumping or other septic service please call (864) 401-1111 or fill out our online contact form and we'll get right back to you so we can schedule a day and time.
Septic Pumping Questions and Answers
The South Carolina Department of Health and Environmental Control (DHEC) recommends a septic tank be pumped every 3-5 years. However, this can vary based on the number of people in your household, the amount of water usage, and the volume of solids in your wastewater.
Typically, homeowners insurance does not cover septic tank pumping or any damage caused by lack of maintenance. It is advisable to check your policy details or contact your insurance provider for accurate information.
The DHEC recommends water conservation, regular inspections, and being careful about what you flush or drain into your system. Avoiding non-biodegradable materials and harsh chemicals can prolong the lifespan of your septic system.
Septic tanks can be pumped any time of the year. However, it's typically easier to schedule this service during warmer months when the ground isn't frozen, and access to your tank is easier.
Some common signs that your septic tank needs pumping include:
Slow draining sinks, bathtubs, and toilets.
Unpleasant odors near the septic tank or drain field.
Sewage backup in the house or yard.
Pooling water around the septic tank or drain field.
Lush, green grass over the drain field, even during dry periods.
The property has changed hands in a real estate transaction.
You are unsure when the last pump-out was.
Septic tank pumping is arguably the most important maintenance task you can do to keep your septic system functioning correctly and trouble-free.
Failing to pump your septic tank regularly can lead to several issues, including:
Solid waste and sludge accumulating in the tank, reducing its efficiency.
Blockages in the plumbing system, leading to backups and slow drainage.
Overflow of wastewater into the drain field, which can contaminate groundwater and cause soil pollution.
Costly repairs or replacement of the septic system.
Yes, South Carolina has regulations and guidelines for septic tank pumping, installation, and maintenance. The South Carolina Department of Health and Environmental Control (SCDHEC) is responsible for overseeing septic system regulations. For more information, visit their website: https://scdhec.gov/environment/your-home/septic-tanks
Septic tank additives claim to break down solids and reduce the need for pumping. However, there is limited scientific evidence supporting the effectiveness of these additives. In some cases, additives can cause harm to the septic system or disrupt the natural balance of bacteria necessary for breaking down waste. The Environmental Protection Agency (EPA) and the South Carolina Department of Health and Environmental Control (SCDHEC) do not endorse the use of septic tank additives as a replacement for regular pumping and maintenance.
To prolong the time between septic tank pumping and still maintain the efficiency of your septic system, consider the following tips:
Conserve water by using low-flow toilets and showerheads, fixing leaks promptly, and spreading out laundry loads throughout the week.
Avoid disposing of non-biodegradable items, grease, oil, fat, tampons, cigarette butts, and chemicals in drains or toilets, as these can clog the system and disrupt the natural breakdown of waste.
Regularly inspect and maintain your septic system components, such as the tank, drain field, and plumbing.
Keep records of septic tank pumping and maintenance to ensure proper scheduling of service appointments.
We don't recommend stretching out pumping intervals as this is a great way to invite trouble.  However, maintaining your septic system to a high-standard and looking after it can definitely help prevent any issues.
Yes, heavy rain or flooding can affect your septic system. Excessive water can saturate the soil around the drain field, limiting its ability to absorb wastewater. This can cause sewage backups in your home, slow drainage, or pooling water near the septic tank or drain field. If you experience these issues after heavy rain or flooding, it's essential to contact a professional septic service like Prime Septic for inspection and potential pumping.
While it's not mandatory, it can be helpful if you're present to provide access and answer any questions the technician may have. If you can't be there, ensure you mark the location of your tank and provide any necessary access and if possible provide a contact phone number our driver can call if there is any questions.
Septic tank pumping is regulated by the DHEC in South Carolina, which requires that only licensed professionals handle this work. The pumped waste must also be disposed of at a licensed treatment facility.